About The Godfrey
Explore The Backstory Of Our Historic Boston Hotel
A storied past, an exciting present and a boundless future. The Godfrey Hotel Boston and its Downtown Crossing home have seen a lot of changes over the years. We think it is a story worth telling.
Amory & Blake
Standing across Washington Street staring back at The Godfrey Hotel you will notice two distinct buildings: the neo-classical Amory Building on the left at the corner of West Street, and the gothic revival Blake Building on the right at the corner of Temple Place.
Both structures, built in 1904 and 1908 respectively, were designed by famed architect Arthur Bowditch. Built to house retail in the lower floors (1-2 in the Amory and 1-4 in the Blake) and offices, mostly garment industry and retail, on the upper floors. Downtown Crossing was, at the time, the primary and most fashionable shopping district in Boston (and all of New England by default). Within the Blake alone, one could visit a furrier, button maker, dressmaker, and cobbler- all separate shops housed under the same roof. They were predecessors to the grand department stores that were popping up around the country and would soon change shopping completely.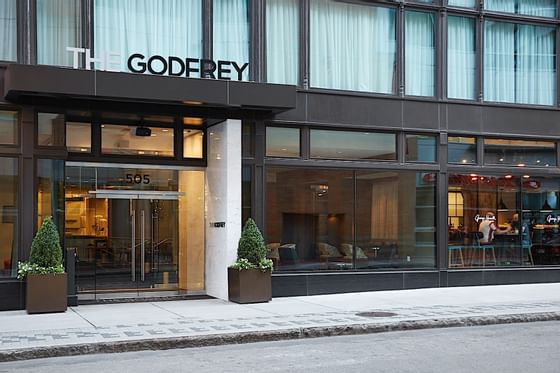 During the mid-20th century some 50+ years after the buildings opened, postwar America had all but abandoned traditional shops and ateliers in exchange for department stores and suburban shopping malls. Urban flight resulted in once grand neighborhoods being reduced to decaying and forsaken relics. Amory and Blake did not escape this fate. By the mid-1970's the buildings, which had been physically joined some years earlier, were practically unoccupied and the remaining businesses struggled to survive. Crass "renovations" removed many of the decorative details of the buildings' facades and replaced them with brutalist style additions, and neglected infrastructure lead to flooding and even a major fire. The buildings remained in this deplorable state for nearly 40 years, even after the surrounding neighborhood began to find a new life.
In 2012, Chicago based Oxford Capital along with investment partners purchased the two buildings with plans to transform them into a hotel that would offer ground-floor retail space. The complex, multi-year project required significant structural modifications to meet modern safety standards, the meticulous restoration of surviving features, replication of some discarded details and a great deal of patience from everyone involved. The result: both buildings, Amory and Blake, are jointly listed on the U.S. National Park Service's Registry of Historic Places.
In a ceremony attended by Boston Mayor, Martin Walsh, the beautiful new Godfrey Hotel Boston welcomed the first guests through its doors in February of 2016...112 years after the Amory welcomed its first.